TRADITIONAL
LASER TAG
Traditional laser tag is a simplistic, fun craving form of laser tag normally associated with low light conditions where multi-colored LEDs and black light theming are common. The gameplay is either individual or team-based scoring.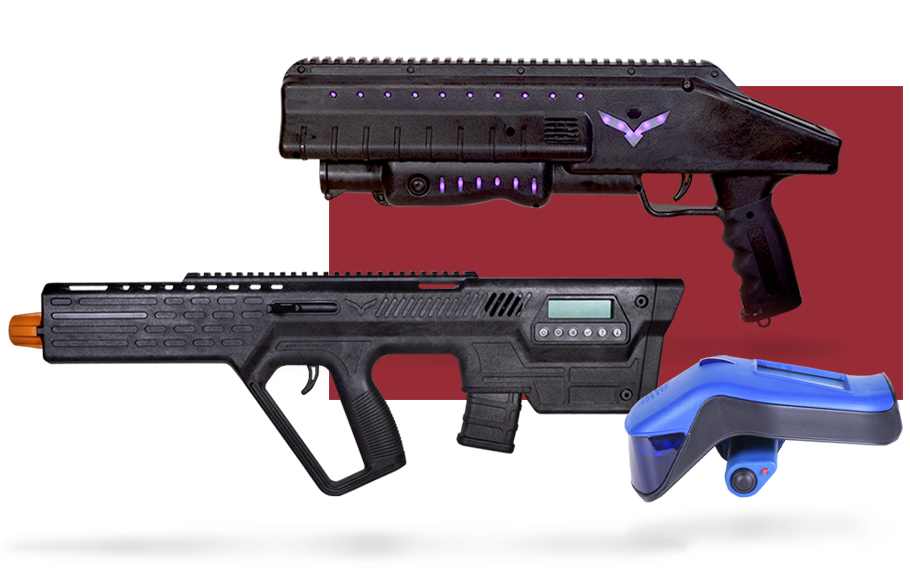 INDOORS & OUTDOORS
Equipment works indoors and outdoors.

ARENA SQ. FT.
3,000+ SQ. FT. (280+ SQ. M)
TRADITIONAL LASER TAG EQUIPMENT
AMERICAN MADE – MANUFACTURED & TESTED BY USA'S FINEST
VALKYRIE
It's lightweight and bullpup design is excellent for close quarters. The Valkyrie has 3 sensors, 1 in front and 2 on the sides.
Reload handle on the side
LED display screen
Multi-colored LEDs on the side
Haptic Feedback
11.1V Airsoft Battery *Not included
Built-in speaker system
Accessory FlyRail
INVICTUS
A sturdy and sleek design that considers the most requested feature for traditional laser tag equipment. Sensor Sling included with Invictus purchase.
Attachable Sensor Sling
Full-color touch display
Multi-colored LEDs
Red dot aiming laser
10 stage health bar
Built-in speaker system
Secondary button – Class abilities
HERO BLAST
Hero Blast is a revolutionary non-gun laser tag device for all ages. Packed with unique features, the Hero Blast allows a player to strap on the unit and battle like a superhero anywhere.
Cordless/Wireless device

Full-color touch display

LED aiming sight

Built-in speaker system
We offer individual pricing and packages for Equipment and Accessories.

SWAPPABLE BATTERIES
With the Charging Stations, you can easily swap out batteries before or after play so you don't have to worry about your units being down. *Only works with GEN3 equipment.
FEATURED HIGHLIGHTS
GET TO KNOW THE TRADITIONAL LASER TAG EQUIPMENT
We offer individual pricing and packages for Equipment and Accessories.
REQUEST INFO & PRICING
Fill out the information on the left to receive an email containing the following:
Pricing on All Products and Packages
Informational E-Book
Product Highlight Sheets
Software Highlight Video
Ready to build a quote? We will create an interactive quote for you to build precisely what your business needs.
NEED FINANCING?
iCOMBAT has a convenient way for you to acquire our laser tag equipment.
We've teamed up with Ascentium Capital!