After 15 years of being present at various IAAPA events, including the USA, Europe, MENA, and Asia, iCOMBAT made its first foray into Latin America (IAAPA Cancun). A region rich with possibilities and at the forefront of some of the most significant projects in the world at the moment. iCOMBAT has several online ranked fields in Central and South America and dozens of outdoor and mobile operations. We decided to meet 300 of the most prominent CEOs and their representatives face-to-face! The event was held in Cancun, with more than 20,000,000 persons transiting the Cancun Airport just last year.
I booked my trip to land by 13:00, which could give me a chance to get a lay of the land and my toes in the sand….after 10 hours of delays, I finally landed at 23:30. Angrily, I checked into my hotel and after one of the friendliest receptions of my life, I convinced myself that this day would not be taken away from me. I hit the streets and noticed that this town was still alive at midnight. Everyone was out, and the city was nicely sectioned off between the party zones with an amazing amount of clubs, new and old. I bought some tacos and a frosty beverage, removed my "chanclas" (flip flops), and got my toes wet in the Mexican Caribbean.
The next day was set up, and I am not joking when I say IAAPA is always top-notch, but this crew NAILED it. We had set up in no time and met other exhibitors and members of the IAAPA Cancun team. We reviewed our presentations and did the small things that make events successful—a massive shout-out to IAAPA Latin America and my handler Gabriela.
When we opened the event the next day, the state's governor and the majority of the city were present, adding to the event's seriousness. Still, they were engaging and enthusiastic in their speeches, after which we had a Mayan dance that made my hairs stand up. The following two days were full of information mixed with time for exhibitors to mix with the record-breaking sold-out IAAPA members in attendance. iCOMBAT was lucky to be one of only two exhibitors to address the attendees in a 10-minute presentation. The title of the presentation was "We are not here to sell you apples; we are here to plant apple trees."
We closed the event with visits to many franchisable IAAPA locations, such as the Cancun Eye and Ripley's Believe it or Not, which are always welcome as you can see how operations change depending on geographical location. The event ended with a visit to Cancun's Mexican wrestling capitol Luchatitlan, which was… AWESOME.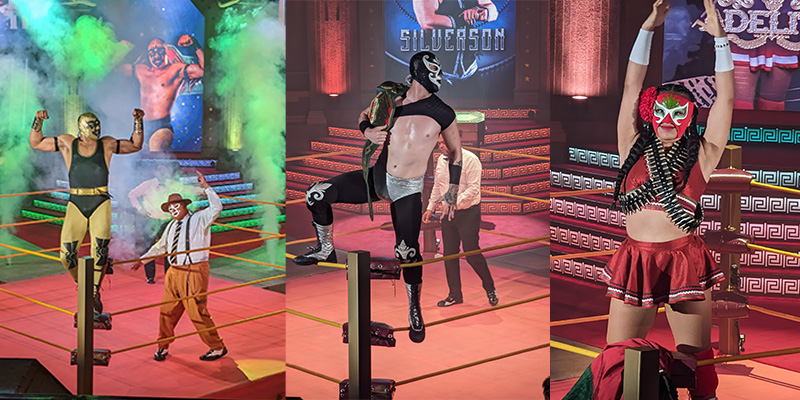 Latino America has a significant promise in her heart: to improve on an already amazing list of tourism opportunities and, more importantly, family entertainment.
VIVA MEXICO!